Whether you're looking for more privacy, added security or to enhance your home's curb appeal, the right fence can be just what you need. Hardworking wood may be one of the most commonly used materials, but that doesn't mean your fence design needs to look just like your neighbor's. Here are 10 fresh ideas for wood fences, including plenty of twists on classic designs, ideas for contemporary styles and a few out-of-the-box ideas.
1. Windowed Trellis
The combination of horizontal boards and board-size windows gives this fence designed by
Scott Lewis Landscape Architecture
a distinct look. The windows allow for tendrils of climbing roses and pink jasmine to tumble through, softening the fence's crisp, geometric design and providing an element of whimsy.
For your own windowed fence design, play with where you'd like to create openings, using the empty portions to highlight a specific view and the covered fence sections to screen and provide privacy.
2. Mixed-Width Vertical Boards
The most classic wood fence design generally features vertical boards between posts. Space the boards tightly for maximum privacy or leave a gap between the boards to create a lighter boundary.
The fence design outside this Austin, Texas, home designed by
Nick Mehl Architecture
is a nice twist on the classic design. The evenly spaced boards of alternating widths make a more graphic statement than a standard vertical fence would. The design works well to complement the contemporary house.
Monier Roofing
3. Dark Painted Overlapping Panels

If your home features horizontal wood siding — such as clapboard or shiplap – pull that architectural detail into your fencing for an integrated design.

Take a look at this home in Sydney by Three Birds Renovations, for example. The renovation team incorporated both the style and dark color of the home's siding into a fence that wraps around the property, for a coordinated, contemporary look.
Monier Roofing
Overlapping boards set between posts are commonly laid horizontally, but the design can be done with vertical boards as well. You can choose between straight and raw edges for the boards, depending on the look you prefer. The fencing pictured in this Sydney garden has straight-edge boards as a siding treatment, hiding the fence frame and posts behind.
4. Streamlined Horizontal Boards
Evenly spaced horizontal wood slats have become an increasingly popular fence design, but they still make a design statement. In this Seattle yard designed by
SCJ Studio Landscape Architecture
, a cedar fence encircles a front yard seating area, providing privacy but also glimpses of the garden.
This style works well with most contemporary buildings and with traditional homes that have horizontal siding, such as
shiplap
or
tongue and groove
.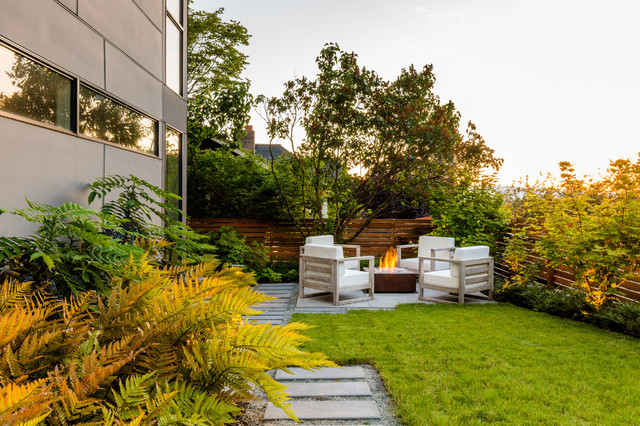 SCJ Studio Landscape Architecture
You have a choice as to the thickness of the boards and whether or not you want to leave gaps between them. No gaps allow for the most privacy, but being able to peek through the fence and see some of the garden beyond can be nice. Consider referencing the home's siding with the lumber width or slat spacing.
LOCKHART SUVER
5. Picket With a Twist
Classically American, picket fences can be the perfect companion to any home that leans toward cottage,
Craftsman
or traditional style. To give traditional picket a slightly different look, try varying the picket widths for a less uniform style.
For this fence outside a cottage in Seattle, a combination of two slightly different picket widths results in a more custom look. Flat-topped pickets also update this style.
Studio TOOP
6. Whimsical Woven Wattle
Made from weaving thin branches (often willow) between wood posts, wattle fencing is a centuries-old technique that can add a beautiful texture to gardens and a handmade element to patio designs. The style works best with cottages and traditional homes and with classic building materials, including brick, flagstone and pea gravel.
Wattle fencing in this whimsical Dutch garden designed by
Studio Toop
in Amsterdam brings a feeling of the countryside to the city.
LEASK ARCHITECTURE
7. Wide-Set Vertical Boards
Arranging fence boards so that their narrower side faces out (with wide spaces between them) offers a twist on the standard vertical wood plank fence — and also can result in an optical illusion, depending on the angle you view it from. From one angle the fence appears solid, and from another angle you see only narrow slivers of fence.
This technique was used to provide privacy screening around a deck designed by
Leask Architecture
that features an outdoor bath (with privacy added by potted plants). To adopt this style at home, adjust the gaps between boards according to how much screening you'd like.
Michael A. Gilkey, Inc.
8. Floating Boards
Landscape architect
Michael A. Gilkey
designed this sculptural, dimensional screen to enclose an at-home yoga garden in Sarasota, Florida. (The raised wood platform is designed for a yoga mat.)
Sections of thermally treated ash wood are attached to vertical posts. Boards flipped on their edges become floating shelves for potted succulents and sculpture. The fencing provides privacy and a visually rich backdrop for a backyard yoga practice and relaxation.
Growsgreen Landscape Design
9. Colorful Reclaimed Planks
Multicolored salvaged boards create a tapestry-like effect above an existing mint green fence in this San Francisco backyard by
Growsgreen Landscape Design
. The designer created asymmetrical openings in the upper portion of the fence that overlook the foliage behind the fence.
The style would work well for an eclectic landscape or where you'd like to add some personality to a more traditional-style yard.
10. Roofed
Often seen in Japanese gardens, a slanted roof adds a beautiful finish to a fence. Roofed bamboo fence panels held by a wood frame mark the entrance to the Japanese-style garden seen here, by
Kikuchi + Kankel Design Group
in the San Francisco Bay Area.
Try this fence style in
Japanese-inspired gardens
to frame an entryway, surround a teahouse or enclose a hot tub area.
cpopp .workshop
Your turn: As they say, good fences make good neighbors. Tell us, do you or your neighbors have good-looking fences? Tell us in the Comments