A bleak backyard is transformed into a colorful meadow-like space with a fire pit, a dining patio and an edible garden
Lauren Dunec Hoang 2 days ago
Houzz Contributor. Landscape designer, a former garden editor for Sunset Magazine and in-house designer for Sunset's Editorial Test Garden. Her garden designs have been featured in the Sunset Western Garden Book of Landscaping, Sunset Western Garden Book of Easy-Care Plantings (cover), Inhabitat, and POPSUGAR.
"The first thing the clients said to me was that they were not interested in wasting water on a large lawn," says Kyle Trembley, senior landscape designer at Environmental Designs. Instead of an expanse of manicured green, the homeowners wished for a backyard with dry-climate-friendly plantings that wouldn't take much water and would offer many seasons of color and benefits to wildlife.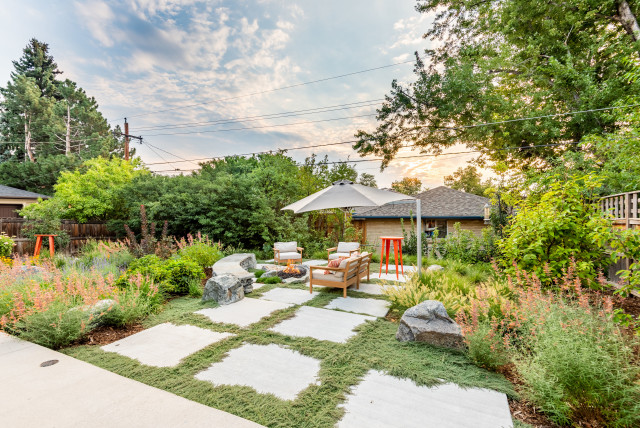 "After" photos by Kristin Olsen of Rosy Heart Photo
Backyard at a GlanceWho lives here:
A couple with two grown children and a goldendoodle
Location:
Denver
Size of backyard:
3,250 square feet (302 square meters); overall lot is 8,276 square feet (769 square meters)
Designer:
Kyle Trembley, senior landscape designer at
Environmental Designs
The couple — he's in the tech industry, she's a rabbi — had recently relocated to Denver from California and completed a home renovation that left the landscape in a state of neglect. Thanks to a referral from a friend, who had hired Environmental Designs to install a low-water buffalo grass lawn replacement, the couple brought on the landscape design team to help bring their own backyard vision to reality.
Also on the homeowners' wish list was having multiple outdoor spaces for entertaining, an outdoor kitchen and dining space, a raised-bed edible garden, plenty of fruit trees, a hot tub and a campfire-inspired fire feature.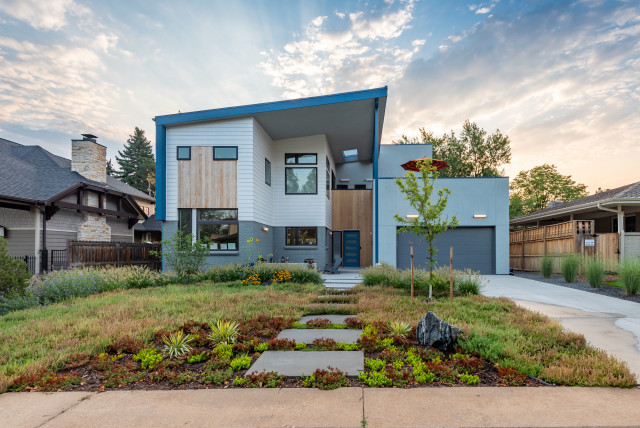 Environmental Designs, Inc.
Front Yard
The couple was looking for a design that would both complement the contemporary architecture of their home and tone down the strong lines of the building. Trembley, the designer behind the landscape renovation, turned to a soft, billowing plant palette of airy grasses, flowering perennials and ground covers to do just that.
In the front yard, the designer added a 'Sunburst' thornless honeylocust (
Gleditsia triacanthos
var.
inermis
'Sunburst') and 'Autumn Brilliance' serviceberry (
Amelanchier
x
grandiflora
'Autumn Brilliance') which, as they grow, will help the landscape relate to the scale of the home.
A mix of low-water ground covers serves as a stand-in for a traditional front lawn. "The thyme and sedum 'front lawn' provides a multicolored green ground cover that requires much less water than bluegrass and virtually no maintenance," Trembley says. The creeping thyme (
Thymus praecox
ssp.
arcticus
) makes for a walkable surface (the sedum is more delicate), blooms pink in early summer and has an unexpected bonus: "The client's dog smells great after running though it," Trembley says.
Find a landscape designer near you on Houzz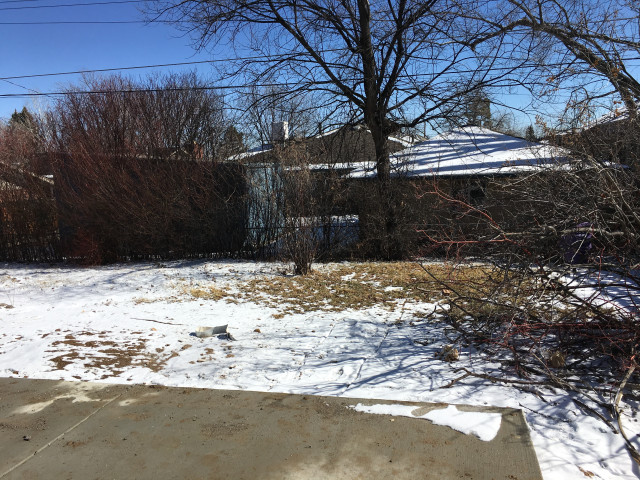 Backyard

Before: Much of the existing landscape had been turned into a construction site following the home renovation. In the backyard there were the remnants of an old lawn and a large, dead tree that was soon removed.

Poor drainage and runoff along the back property line were also site issues. To address them, Trembley added plans for percolation pits beneath the home's downspouts, used permeable decomposed granite for pathways and left large gaps between pavers that he planted with ground covers to help keep rainwater on-site.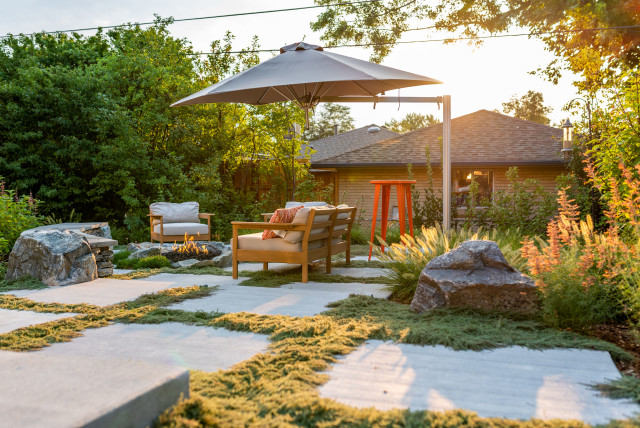 Environmental Designs, Inc.
After: Balancing strong geometric forms with softer, more organic ones is a theme that runs throughout the new landscape and helps tie the garden in with the modern architecture of the home. "During the design process, we played around with linear stepper pathways to pick up the lines from the house. We mixed in organic shaped bed lines and softened the concrete edges with varieties of thyme and many different plants," Trembley says.

Now, a handsome new patio of poured-in-place concrete pavers softened by ground covers leads from the new dining patio, closest to the house, to the fire pit lounge set back in the garden. Chunky granite boulders, sourced from a local quarry, stud the billowy meadow plantings as they might in the nearby mountains.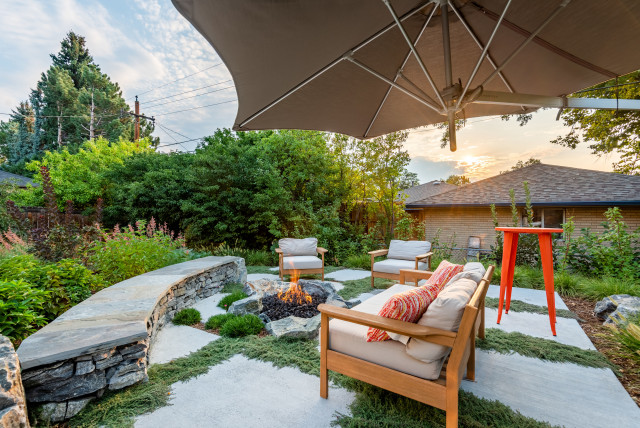 Environmental Designs, Inc.
Fire Pit Lounge

The homeowners wanted the fire pit area to feel casual, more like a campfire than a fire feature in a city garden. "Denver does not allow wood-burning fire pits or barbecues due to drought and the high risk of wildfires," Trembley says. "It was a challenge to design a gas-burning fire that had a campfire look to it."

He used a ring of granite rocks with clumps of pink sea thrift (Armeria maritima) and woolly thyme (Thymus pseudolanuginosus) growing among the gaps in the stones. A curved stone bench offers a seating ledge along with a cushy outdoor sofa and chairs.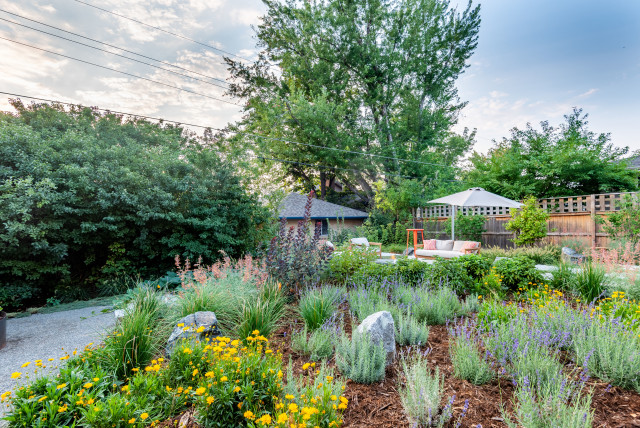 Perennial Meadow

Behind the stone bench, meadowlike plantings of ornamental grasses and colorful flowering perennials extend across the yard where the original turf lawn had been. Plants are arranged in clumps and swaths to give the effect of how they might reseed through a meadow in nature.

The clients are avid hikers and nature lovers, so attracting wildlife was important to them, the designer says. "To this end, native plants were selected as much as possible, such as serviceberries and dogwoods, to attract birds, fruit trees for wildlife and many flowering perennials for bees and butterflies."

The plantings also offer multiple seasons of colorful flowers and interest in winter through bright twigs, such as those of the Arctic Fire dogwood (Cornus sericea 'Farrow').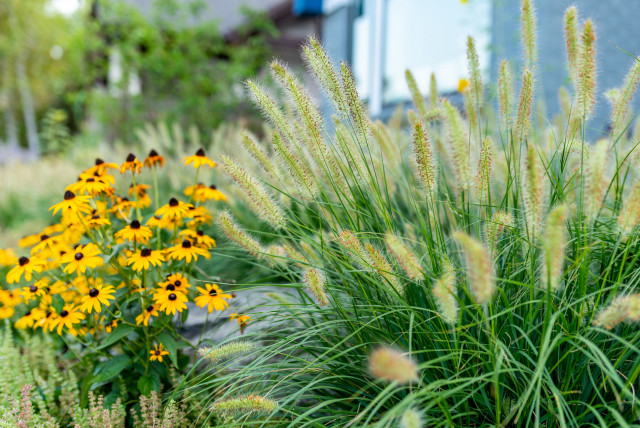 Some of the bee- and butterfly-friendly perennials include black-eyed Susan (
Rudbeckia fulgida
var.
sullivantii
'Goldsturm'), coreopsis (
Coreopsis grandiflora
'Baby Sun'), English lavender (
Lavandula angustifolia
'Munstead'), Coronado red hyssop (
Agastache
'Pstessene'), red-hot poker (
Kniphofia uvaria
) and pink-flowering thyme.
Drip irrigation provides a modest amount of water and keeps the plants from drying out in droughts. Covering the soil with a thick layer of mulch helps conserve moisture and hides the drip lines.
How to Find the Right Native Plants for Your Yard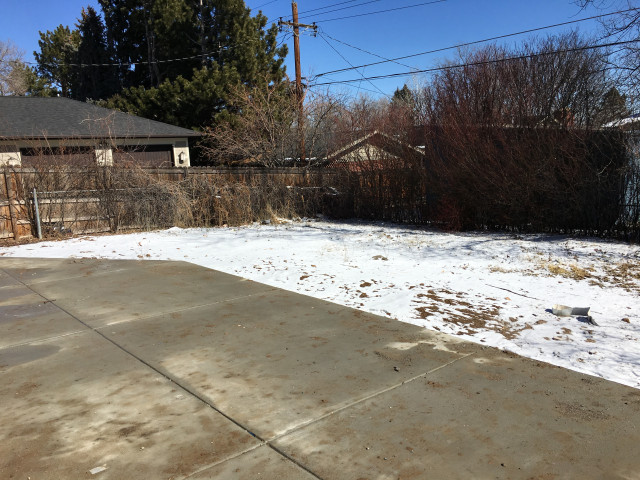 Outdoor Kitchen and Dining Patio

Before: A shot of the left side of the backyard shows that the space was largely a blank slate with only a concrete patio and bare ground.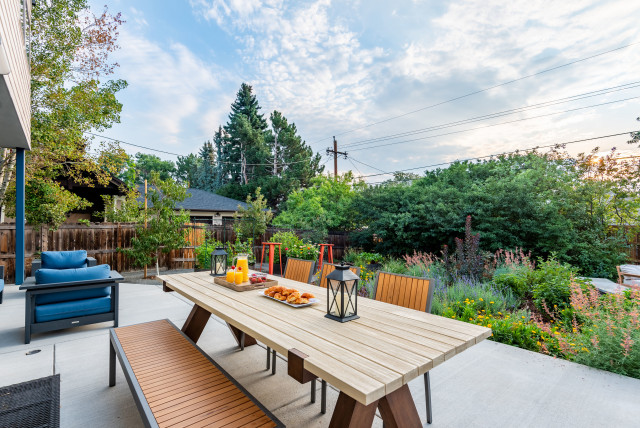 After:
Now the space is home to an outdoor kitchen, dining table and seating area (which gets partial shade from the overhang of the house) as well as a new edible garden along the left fence. Trembley reports that the homeowners selected all of the outdoor furnishings and made sure they were durable enough for year-round outdoor use. "There are lots of warm winter days in Denver, so the patio furniture stays out so that it can be used," he says.
Shop for outdoor dining furniture on Houzz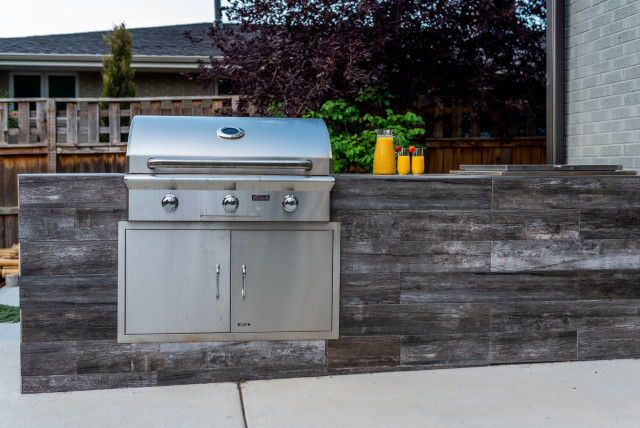 Environmental Designs, Inc.
The new outdoor kitchen features a 36-inch gas grill, double stainless steel access doors and a drop-in icebox for keeping drinks cool. They used a wood-look porcelain tile for the siding and an oxidized metal-look porcelain tile for the countertops. "We wanted a Cor-Ten steel look that wouldn't stain," the designer says.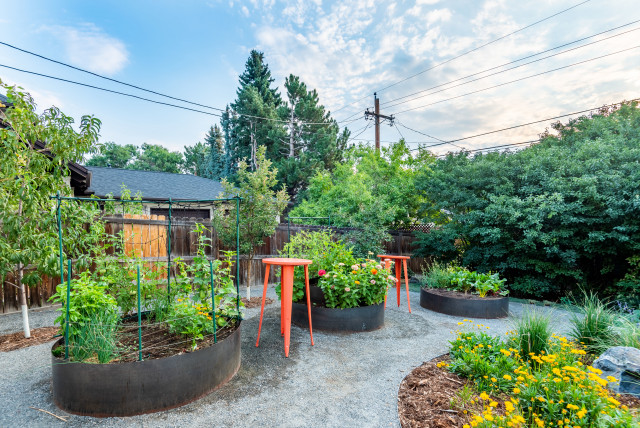 Edible Garden
The kitchen garden and orchard are located along the left side of the backyard. Five-foot-wide circular raised beds made of Cor-Ten steel provide planting space for an assortment of vegetables and herbs. In summer, they're planted with peppers, chives, basil, tomatoes, rainbow chard and squashes, as well as
companion plantings
of marigolds and zinnias. A compost bin is tucked out of sight in the right corner of the kitchen garden.
A trio of fruit trees — a 'Lapins' cherry, 'Polly' peach and 'Honeycrisp' apple — grow behind the raised beds. "Fruit trees are tricky in Colorado due to our extreme temperature swings. It is best to plant varieties that bloom late if you want to get fruit," the designer says.
How to Plan Your Edible Garden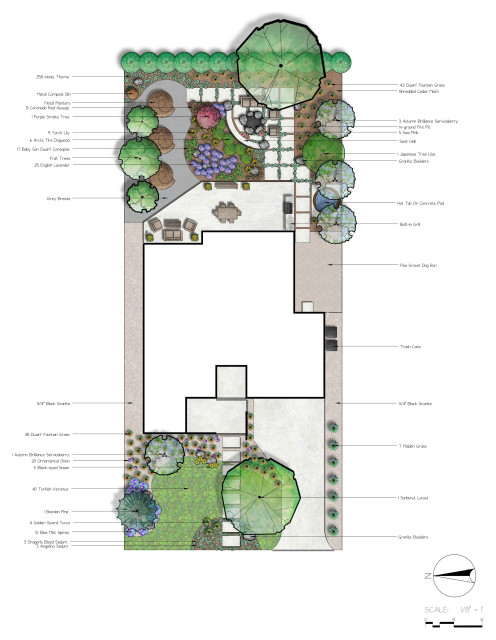 Lauren Dunec Design
Landscape Plan

Although not seen in the pictures, a cedar hot tub sits behind the outdoor kitchen, along the right side of the backyard. In the property's side yard there's a dog run for the resident goldendoodle. Check out the landscape site plan here for the overall layout.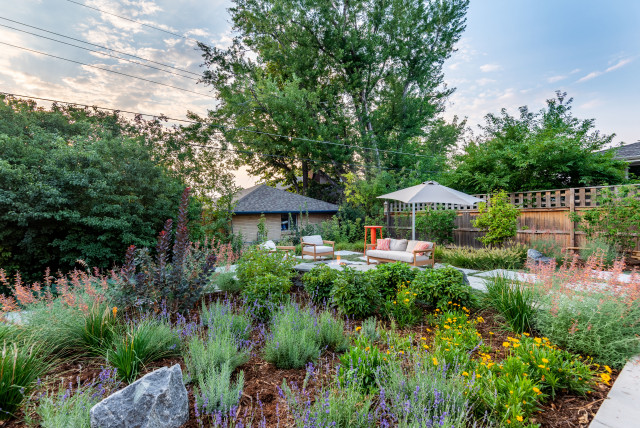 Environmental Designs, Inc.
The designer says the couple have been enjoying their new garden very much, whether they're watching the seasons change, relaxing by the "campfire" or hosting friends.